Review: Video Transconding made easy.
More and more people own a variety of devices with different screen sizes, different resolutions and different codecs. Converting videos to a supported format, that looks good from image to subtitles, while keeping the size controlled, can be a harder task than it sounds. Thankfully there's a pretty handy open source application called Handbrake.
Useful presets
Video decoding settings can be daunting to new users, and selecting the right settings requires a lot of trial and error, moreover video encoding isn't the fastest task out there so it can end up being very time consuming.
Handbrake offers a set of presets meant to be used with specific devices. Say you want to convert a video to use with your Android tablet, just click Source select the video you want to convert, the preset labeled Android tablet, select a name and where you want it and hit start.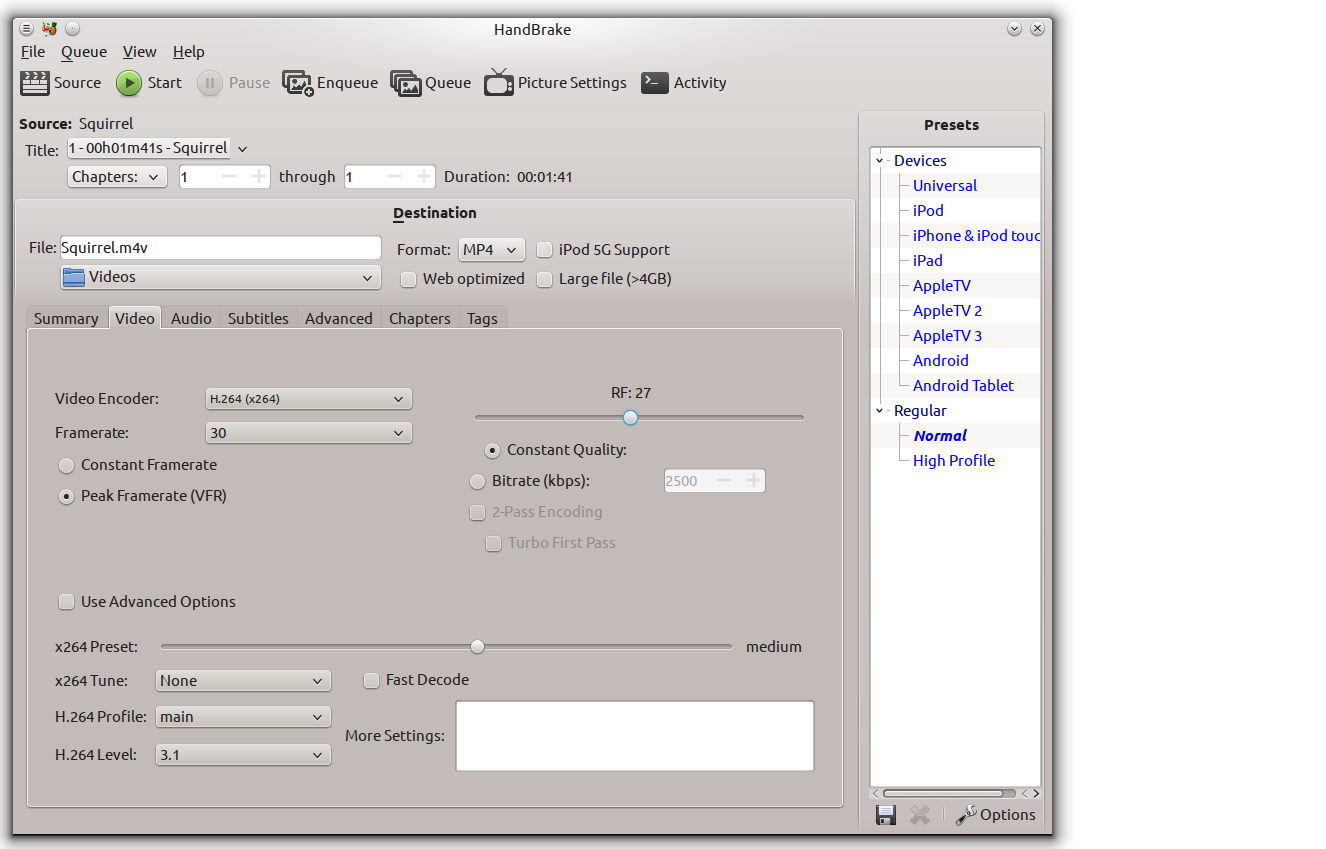 Out of the box you get only a few presets (although it covers much of what most consumers own): iPod, iPhone, iPad, Android (smartphone) and Android tablet.
If your device isn't included in the default set of presets you can always test settings yourself until you find the one that satisfies you and save it. However, in general you can count that someone else also has the same device, as long as is a more or less popular device, you will find other presets done by other Handbrake users, for example:
After searching around, I came across a Handbrake preset for PS Vita on another website, and found it to be fairly unacceptable. After some slight modifications, I have created a preset that encodes for PS Vita that looks great and shoots out some pretty low file sizes. Average file size for me for a 23 minute episode of anime was around 50-75 MB and looked fantastic on the Vita's screen.

I thought it was a shame that it wasn't posted on the actual Handbrake forums, so I decided to share.
Custom settings
There are many options and all display a very useful on-hover description. It works like a learn as you go guide.

Aside from basic video settings you can also easily select multiple audios (like languages) and add a variety of subtitles, and since it supports SRT (SubRip Text) you can easily add new ones from the web.

Web optimization also comes in handy if you plan to upload for streaming a video file. Also, the RF slider is a very simple way users can come up with different settings without getting to deep into video encoding. For more advanced users there's also the advanced tab.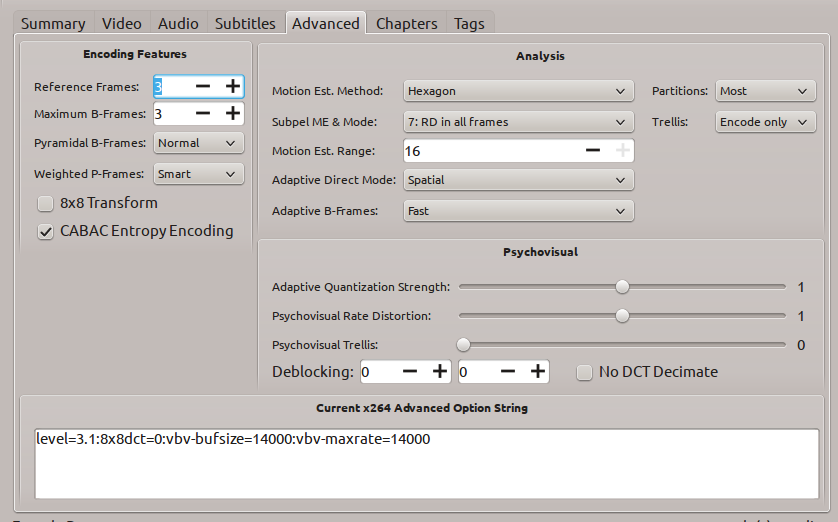 Creating new presets is super easy, just select your settings and click the save icon under the list of presets, pick a name and a description and hit Accept.
Video quality
I tested both Android presets and I was quite pleased with the result. Of course, modern android devices are perfectly capable of playing basically any non-4K video, but smartphones and tablets are more often than storage-constrained, so it makes sense to try out and find the best balance between image quality and size. I converted an episode of one of my favorite anime series Planetes, from 1080p to 720p (using the Android tablet preset) and the image quality was good and the size was only 102 MB.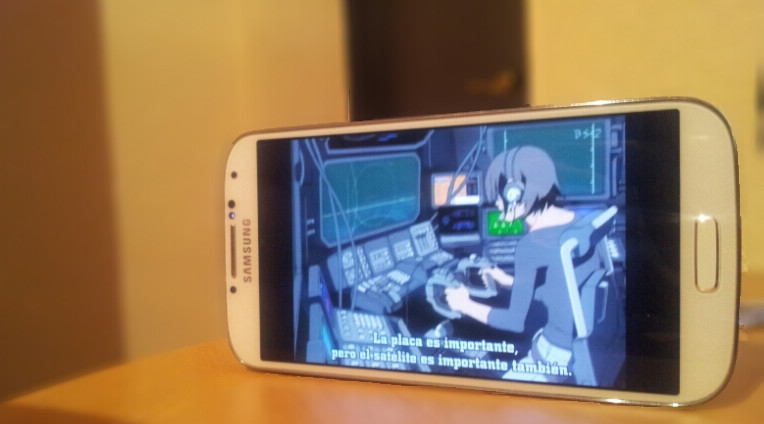 Ways it could be improved
While I think Handbrake is a very nifty tool, presets are genuinely useful, encoding options are presented in a relatively straightforward way, with tooltips to help newcomers, I would like to see the default interface simplified, a bit like Arista (which is no longer being developed):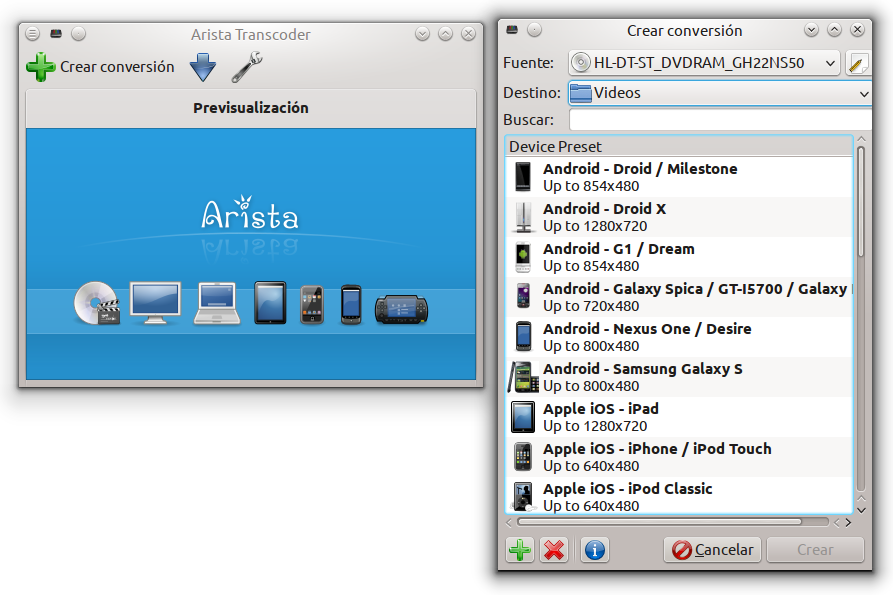 And more importantly I would like to see someone apply a bit of crowdsourcing, a database right from the main UI with a simple approval voting system so users can pick the best presets uploaded by the community. It would significantly increase the number of device-specific presets as well as discoverability, since presets are  plain text it wouldn't be too hard to implement.
Installing Handbrake
If you want to try it you can install it by adding the corresponding PPA:
sudo add-apt-repository ppa:stebbins/handbrake-releases
Then update your repositories:
sudo apt-get update
And finally you can install Handbrake:
sudo apt-get install handbrake-gtk
I hope this application helps at least some users carry their videos on their mobile devices without worrying so much about image quality or running out of space. I highly recommend visiting its forums if you need presets or tips for other devices.